Notice: Trying to access array offset on value of type bool in /home/clubsommozzatoririeti/public_html/wp-content/themes/leisure/framework/framework.vc.php on line 102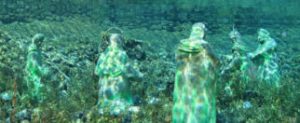 Il Presidente Ettore De Michele in un tiepido pomeriggio dell'Ottobre del 1994 e con alcuni membri del giovane Club Sommozzatori Rieti riuniti presso il Ristorante Le Fonti di Santa Susanna, ammirando le suggestive e soprattutto limpidissime acque della Sorgente di Santa Susanna site nel Comune di Rivodutri, ipotizzarono la possibilità di poter realizzare un'opera sicuramente ambiziosa e qualificante per la nostra Provincia ed anche per il Club stesso, e che poi si sarebbe trasformata in un'annuale tradizione, patrocinata dal Comune di Rivodutri, diretta ed installata a Rieti sott'acqua, in uno dei simboli incontaminati del nostro territorio, dal Club Sommozzatori Rieti.
Nasceva così il Presepe Subacqueo di Santa Susanna.
Dopo aver preso accordi con l'Amministrazione comunale di allora, il Club si rimboccò le maniche e la sera durante gli incontri di vita sociale, invece di parlare di subacquea tra l'Ottobre e il dicembre dell'94 si iniziarono a costruire sculture in creta, stampi in gesso e vetroresina, l'Associazione stessa si trasferì nel laboratorio d'arte Dell'Artista Renato Buccioni Realizzatore delle crete, tutto orientato alla realizzazione delle sei statue che rappresentano il Bambinello, la Madonna, San Giuseppe e 3 re Magi, i quali ancora oggi, rappresentano il primo ed unico presepe subacqueo della nostra Provincia.
L'amore che il Club Sommozzatori di Rieti dedica a tale rappresentazione e prima ancora alla manutenzione delle statue è veramente singolare, ogni anno le statue vengono ripulite e lavate da tutte le incrostazioni e i vegetali che popolano la sorgente che tenta quasi di farle sue, e poi con un certosino lavoro, vengono immerse fino al fondo della sorgente, profonda circa quattro metri e posizionate con cura. Non sempre è facile trovare, sul fondo, una base piana dove bloccarle perché le acque della sorgente sono sempre in movimento, quindi i subacquei del Club debbono lavorare alcune ore per predisporre bene il sito che riceverà ogni singola statua, per poi ancorale con dei massi alla base. Posate le sei statue, alte circa un metro e mezzo, si procede poi all'installazione dei fari subacquei che durante la notte illuminato le statue del presepe che risultano visibilissime dalla riva, pertanto è possibile effettuare riprese e fotografie del presepe in tutte le ore dalla giornata, naturalmente la notte è veramente suggestivo ammirare, con l'effetto luce dei fari, i chiaro scuro delle ombre delle statue immerse nelle limpidissime acque, dando all'opera un risalto eccezionale.
Le Sorgenti di Santa Susanna si trovano nel settore nord orientale della Piana Reatina, alla base dei Monti Reatini, in comune di Rivodutri. Le risorgive ,tra le più grandi d'Europa, costituiscono una delle emergenze naturali della Riserva dei Laghi Lungo e Ripasottile . Con una portata di 5000 litri al secondo generano due corsi d'acqua: il fiume di Santa Susanna ed il Canale omonimo: il primo riversa le proprie acque nel Lago di Ripasottile, il secondo è triburtario del fiume Velino.
La sorgente ha una profondita' massima 4 metri, e la temperatura dell'acqua e costantemente intorno agli 8° – 9° gradi.
Presepe Santa Susanna 2012
Notice
: Trying to access array offset on value of type bool in
/home/clubsommozzatoririeti/public_html/wp-content/themes/leisure/framework/framework.vc.php
on line
102